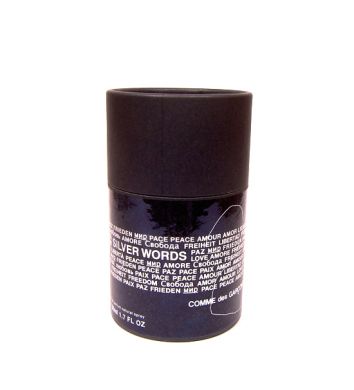 From Blacbird Blog: "Words contain meanings like a bottle holds a perfume. Both convey messages that can be interpreted and experienced in an immense variety of different ways, each of them communicates an essence, a thought, a shared experience. Messages in bottles have always signified belief and a hope for the future.

Using advanced serigraphic techniques, evolved from traditional printing methods, the original Comme des Garcons 2 pebble-shaped bottle has been lacquered in black to contain silver words of peace, freedom and love in several languages.

The result is a deep, matt-black colour surface holding an infinate mesage of hope, stamped in silver words."
Reference:
http://helloblackbird.blogspot.com/2009/01/comme-des-garcons-silver-words-cdg-2-in.html