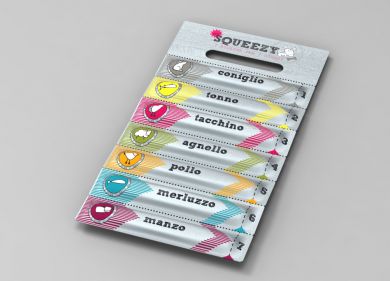 Squeezy is a set of daily portions of wet food for adult dogs. It consists of seven little bags (150g each) that you can easily tear open. The product offers seven different recipes ready to serve for a complete and balanced nutrition: just need to squeeze it!
The packaging is made of laminated aluminum foil, a perfect barrier bag that protect the food from light and gas, and it's completely disposable and designed to be thrown away after use.
Squeezy can be hung in the supermarket shelves in order to have more visibility and attract the customers.