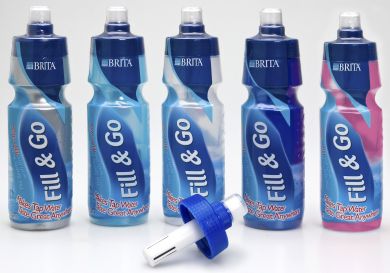 Brita re-launched the "Fill & Go" the sport bottle, with the filter inside.
The range was extended with new see-through colours and the bottles now have a vibrant shrink-sleeve labels to allow the internal filter to be seen. There are five colours including silver, metallic blue, clear blue, pink and clear.
The "Fill & Go" filter removes chlorine, bad tastes an odours from tap water. It is a cost-effective alternative to bottled water, delivering 57 liters or 80 refills from just one replacement filter, which is less than 10c per refill, a substantial saving on bottled water.