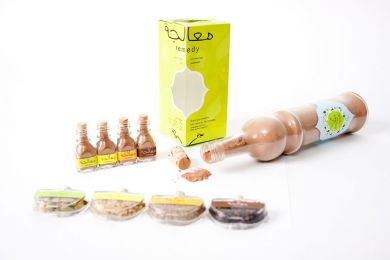 From Sierra Korthof Flickr website:
"Class: Graphic Design 3 (final semester)

For this project we were directed to create a series of five box forms for either a product that already exists or one we created. I chose to create a line of Arab inspired hot chocolates. The idea behind the product is that the hot chocolate is infused with traditional plant remedies from the Arab world.

I chose to create this product because I am very interested in Arab culture and language. I am currently in my first semester of Arabic, and I thought this would be great opportunity to attempt to design a product that would appeal to two both Western and Arab culture. The identity is a combination of Arabic and English. The packaging, directions, explanations, and ingredients are also listed in both languages."
Reference:
http://www.flickr.com/photos/sierrakorthof/sets/72157603466075868/ , http://packagingsoftheworld.blogspot.com/