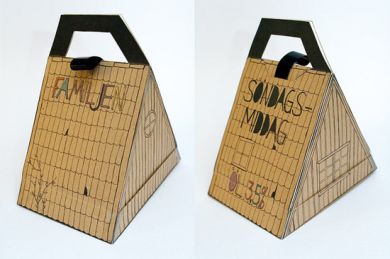 From Anders Jönsson Annasbror website: "
Familjen (The family) is a fictitious brand of beer. It contains six types of beer, one taste for every member in the familiy. The pyramid packaging is made for easy openings, unlike the plastic vacuum packaging it facilitate for example rheumatism. It's also easy to carry around, like a bag. The cans have a strap that will make it easier for those who have impaired muscles for grabbing a can."
Collaboration with Azin Ashourvan, Henrik Naessen, Jessica Sernefors and Katarina Lindh.
Reference:
http://www.annasbror.se/index.php?/work/bryn-mawr/