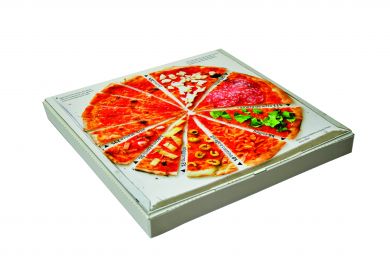 Trompe l'oeil degli incidenti (trompe l'oeil of accidents)
The project correlates the content of the packaging (pizza) to a visual system providing statistical data about domestic accidents. The photographic language helps this relation of meaning, assigning a scale and position to the indicative values typical of diagrams and graphs, such as the pie chart, that's the source of inspiration of this project: to show different percentages and locations of accidents the author uses slices of pizza of different dimensions.
Concept developed at the Design Department of Politecnico di Milano within the research programme "Sicurezza in famiglia" ("Safety in the family" - scientific coordination of prof. Valeria Bucchetti), financed by the Italian Consortium for the Recovery and Recycling of Cellulose-based Packaging (Comieco).