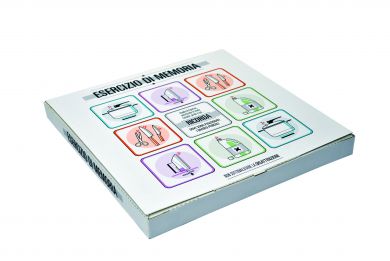 Esercizio di Memoria (Memory exercise)
Accidents can be caused by different factors, so it's important to always have the situation under control, in order to prevent every dangerous action. This communication informs the user on possible causes of injuries thanks to the game "memory" and it invites him to "remember" where lie these dangers in the everyday life. In the game, like in the real life, knowing the critical issues in your domestic environment consents you to prevent accidents.
Concept developed at the Design Department of Politecnico di Milano within the research programme "Sicurezza in famiglia" ("Safety in the family" - scientific coordination of prof. Valeria Bucchetti), financed by the Italian Consortium for the Recovery and Recycling of Cellulose-based Packaging (Comieco).