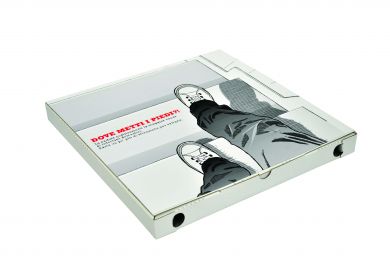 Occhio a dove metti i piedi (Mind/watch the steps).
Communication exploits one of the packaging's characteristic: during transport it can only stay in horizontal position, hiding what's underneath. The idea of communication is to show to the user, directly from his point of view, some hypothetical dangers that the user risks to meet and that could lead to an injury because of distraction. This dynamics can be reconnected to domestic events, as the transport of big objects.
Concept developed at the Design Department of Politecnico di Milano within the research programme "Sicurezza in famiglia" ("Safety in the family" - scientific coordination of prof. Valeria Bucchetti), financed by the Italian Consortium for the Recovery and Recycling of Cellulose-based Packaging (Comieco).