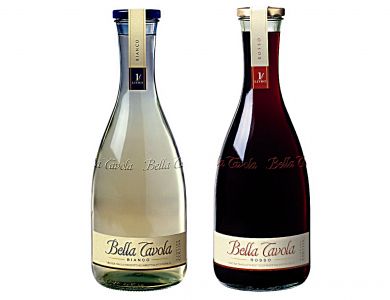 The "Bella Tavola" line of wines comes from C.I.V. Gruppo Coltiva in an innovative and previously unseen cladding with a strong personality, combining its traditional image with hi-tech technology and system of closure. Bella Tavola containers evoke the ancient glass measures used in taverns with volumes of 1, 0.5, and 0.25 litres (the "quartino").
The packages are ergonomic, allowing a firm grip and facilitating the pouring of the contents.
On the technical side, the challenge was to manufacture the desired shape in industrial quantities and, especially, to wed the aesthetic peculiarities with the proportions necessary for glass stamping (respecting the parameters of height, diameter, weight, uniformity of thickness etc).
The closure system is a twist-off capsule made by Amcor White Cap: never used before in this sector, it enables the bottle to be opened and closed manually in an easy and safe way, without using aids such as corkscrews and bottle openers.
Reference:
http://www.italiaimballaggio.it/italiaimballaggio/01_02_06/sezioni/02_oscar/art1_oscar.html