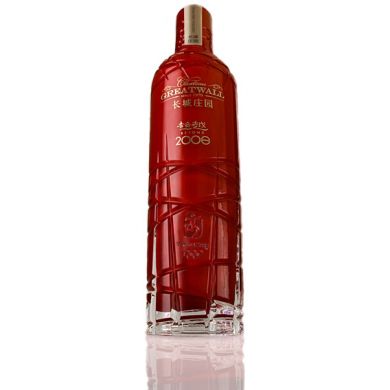 RobilantAssociati designed the limited-edition bottle for a Chinese wine, launched to celebrate the Beijing 2008 Olympic Games.
Produced by COFCO in only 2.008 pieces, Chateau Great Wall is a luxury product, that can be purchased at the price of 20.008 renminbi (more than 2.000 Euros) per bottle.
Milan and Shangai branches of RobilantAssociati decided to associate the bottle design to the historical event of Beijing 2008 Olympic Games, building a suitable image for the symbolic, prestigious role of the product.
Taking inspiration from the architectural structure of the Bird's Nest, Beijing's Olympic Stadium, the Chateau Great Wall bottle has a red "core", covered by a transparent glass shell. On this layer, a carved pattern recalls the exterior of the Olympic Stadium, thus giving the impression of a true glass sculpture. The bottle doesn't have any label: a golden serigraphy on the bottle surface offers information on the product. The symbol of the Olympic Games is embossed on the lower part of the bottle, emphasizing the product's celebratory character. Every item is composed of four blown-glass layers; each layer has been worked by the masters from Venini, the Venice-based company which can boast the longest and most prestigious glass working tradition.
Reference:
http://www.packagingeurope.com