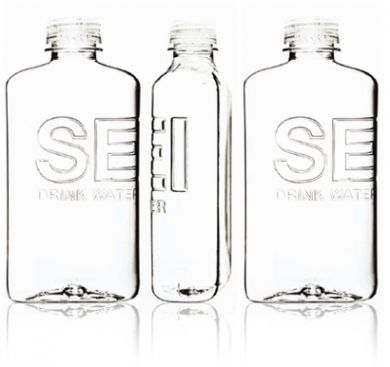 To serve its goal of providing better resources for better living, SEI Water was envisioned as a new generation of bottled water that would unite world-class style with an unsurpassed level of functionality. It had to be a sturdy, convenient complement to the rigors and constant transit of contemporary life as well as an appealing refreshment that people would truly enjoy. Visually, SEI Water would be an uplifting, soothing presence in any environment.
The bottle itself, however, should take nothing away from the existing purity of the water it would bear, humbly reflecting its essential nature. Without colors or labels, SEI was conceived as a window to the uncorrupted beauty of the vital resource within. In that way, the water would be freed, in a sense, rather than contained; instead of disturbing its surroundings, SEI would emanate the simple harmony of form and function it embodied.
To bring this vision to life in a form that reflected the needs of a society increasingly short on space, SEI Water should also make the most of any given capacity, fitting in pockets and purses, sports bags and briefcases, without adding unnecessary bulk. The shape would need to be streamlined to reduce storage requirements and optimize efficiency, delivering the maximum amount of water in the minimum space.
The sleek, clean shape of the bottle was inspired by the military canteen, designed to be simple, sturdy, and equally suitable for use in camp, field, or combat. Based on these standards of versatility, portability, and packaging, bottled water could better meet the demands of modern life. Accordingly, the SEI design effortlessly incorporates an ultra-modern angularity into the flowing curvature of the bottle, creating a product that is at once industrial and natural, cutting-edge and timeless.
Ultimately, SEI Water accomplished what it set out to achieve: to create the most elegant and efficient form for holding bottled water - a form customized to provide people on-the-go with the water necessary for peak performance in their daily lives.
Reference:
http://images.google.it/imgres?imgurl=http://inspirationlab.files.wordpress.com/2009/04/sei_water1.jpg&imgrefurl=http://inspirationlab.wordpress.com/2009/04/07/sei-water/&usg=__J2cLxIX220Zp2_R6StvZN1Umokw=&h=386&w=410&sz=107&hl=it&start=3&um=1&tbnid=CKbCs