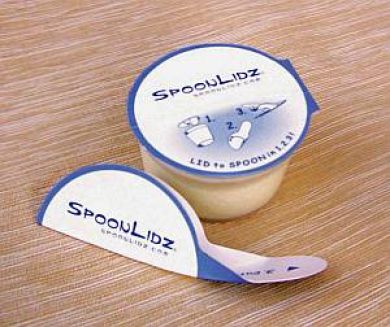 Peggy Cross of Sterling Cross Creative has designed SpoonLidz, a new type of sustainable lid for a variety of food products.
The cardboard-based lid coverts into a spoon providing the customer a much more sustainable single serving spoon for yogurt, oatmeal, baby food, and many other serve products. SpoonLidz is making its first major debut today at Pack Expo International in Chicago. SpoonLidz satisfies the growing consumer demand for greater levels of eco-friendly, economical, grab-and-go convenience. SpoonLidz is a sustainable over-lid which, in one fold, becomes a sanitary and fun spoon. There is potentially little or no cost added for the consumer. The cost is a fraction of other on-pack spoons, and has much less impact on the environment because it's made from a renewable cardstock with SpectraKote, a new sustainable, slick, moisture-barrier coating.
"We've had an incredible response from both consumers and the trade," said Peggy Cross, long-time National Brand Marketing/Packaging Director and Principal of Sterling Cross Creative, and now Founder of SpoonLidz.
"In our market research with yogurt, we heard excitement and relief from consumers; now they have a solution to their ongoing problem of having to constantly worry about buying, packing, losing, washing, throwing out or forgetting to pack spoons, for products which they use to-go. Many we surveyed said they would buy more yogurt if it came with the added convenience of a SpoonLidz."
The company says the best part about SpoonLidz is not having to use a plastic spoon any more - which would have a significant positive environmental impact.
Reference:
http://www.sustainableisgood.com/blog/2008/11/spoonlidz.html, http://www.spoonlidz.com, http://www.architetturaedesign.it/index.php/2009/02/17/packaging-spoonlidz-packaging-design.htm