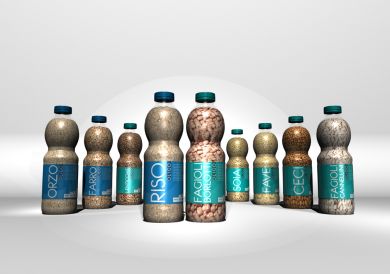 Eco-sustainability is at the centre of the project. The reduced consumption of water implied for the production of cereals and dry legumes, in comparison with other foods which need more resources, becomes the core of the product communication.
The project valorises this advantage using the symbolic values of the language of water packaging; cereals and dry legumes are communicated through an unexpected message, aiming to have a direct and wrongfooting impact on the receiver, in order to generate surprise and consequent curiosity.
The essential graphic language and the synthetic representation of information, which refers to the technical-scientific communication, work together to make the message transmitted with more incisiveness.