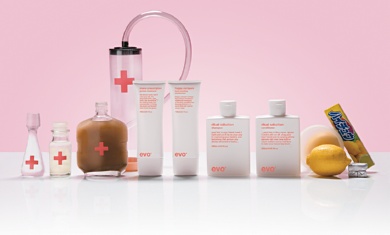 Evo is a hair care brand that has its own unique personality and culture, in stark contrast to an industry filled with 'more of the same' type approaches. Evo is cheeky, humorous and slightly twisted.
The copywriting developed by David Kalusy and Mash seemed to sum up the brand personality so well that we decided to use this as the basis for the packaging, keeping it raw simple and letting the copydo all the talking.

The Evo packaging provided Mash with a Distinction Award at the 2008 AGDA National Biennial Awards.
Reference:
http://www.mashdesign.com.au/projects_html/evo_packaging.html