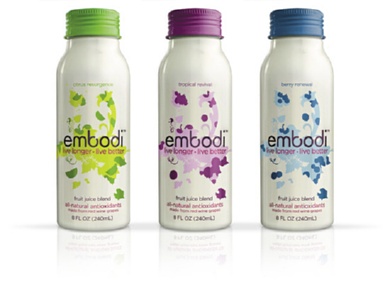 From Think Kaleidoscope (a design agency) website:
"The Challenge
To develop a strategy for a wholly new grape drink experience targeted to health craving urbanites.

The Insight
Research revealed that red wine grape concentrates contain the optimum blend of active micronutrients required to achieve the highest-levels of antioxidant benefit. In an overly saturated energy beverage marketplace, Kaleidoscope saw this an opportunity to rethink the wine experience within a concept developed around health-energy.The
Solution
Embodi's stance is unique, representing the perfect partnership of energy and nature. Through convenient packaging and accessible visual equities, Embodi leverages the vineyard experience as a emotional brand driver. Attracting younger health-seeking consumers looking for instant health gratification.

The Result
Introduced in 6 flavors, the striking design truly delivered a wholly new experience and an exciting category opportunity. Embodi achieved national distribution with Whole Foods and other leading retailers."
Reference:
http://www.thinkkaleidoscope.com/pdf/casestudy/63244_Brochure_PackagingCS10.pdf